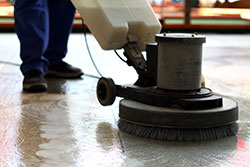 Household incidents are not a rare thing nowadays. Thanks to the fact that more and more people have all kinds of automatic appliances, problems occur more often than not. Water damage can turn into a severe problem if not tackled on time. If you experience any difficulties drying your kitchen after a washing machine spill, you can call Water Damage Restoration Cypress. We will come to your house immediately, assess the damage and take the necessary measures to remove all water and clean your place.
Cypress is located in Orange County, California. In the past the city was also called Waterville and Dairy City. There are many artesian wells in the area and also many pleasant places for walks and family picnics. A famous Cypress resident is the well-known golf player Tiger Woods.
Every person has flooded his apartment or house at least once. Whether forgotten running water or a leaking pipe, the flood in the basement, kitchen or bathroom can be a serious issue which is able to cause severe damage to your house. If something like that happens, you should act quickly and call us right away – we will send a team which will check the situation, assess the water damage and take measures for the drying of the flooded area and the preservation of the items. First of all, there are three levels of water damage depending on the type of water which has flooded your house. If we are talking about a broken pipe, the water is completely clean and your health is not endangered.
Organized contractor catering to flood restoration.
When the problem comes from a washing machine, it is not good for the water to stay long as it is, because detergents and other solutions have already been poured into it. The most dangerous situation is when the water which caused the flooding has been contaminated and it is full of bacteria or wastes. In such a case, we provide immediate assistance and our specialists use the fastest devices to dehumidify the flooded areas by extracting and removing the water. The effectiveness of our efforts depends also on the extent of the water spill and the items which have been affected.
The more furniture is damaged, the longer the drying and cleaning process will take. Depending on the type of water, you may also need odor removal to be performed. We will do all necessary work to restore the original condition of you home, so that you can use all items, upholstery and rooms again. Our services can be ordered for commercial purposes as well – if the damage is more extensive than expected, more people will be sent to finish the work on time. The price for our services depends on the number of performed actions as well as on their type. We will describe every step of the process and you will be provided with all details -we won't undertake any actions without your permission. Water Damage Restoration Cypress can provide urgent assistance and services. You can count on us at any time and your customer satisfaction is 100 percent guaranteed.